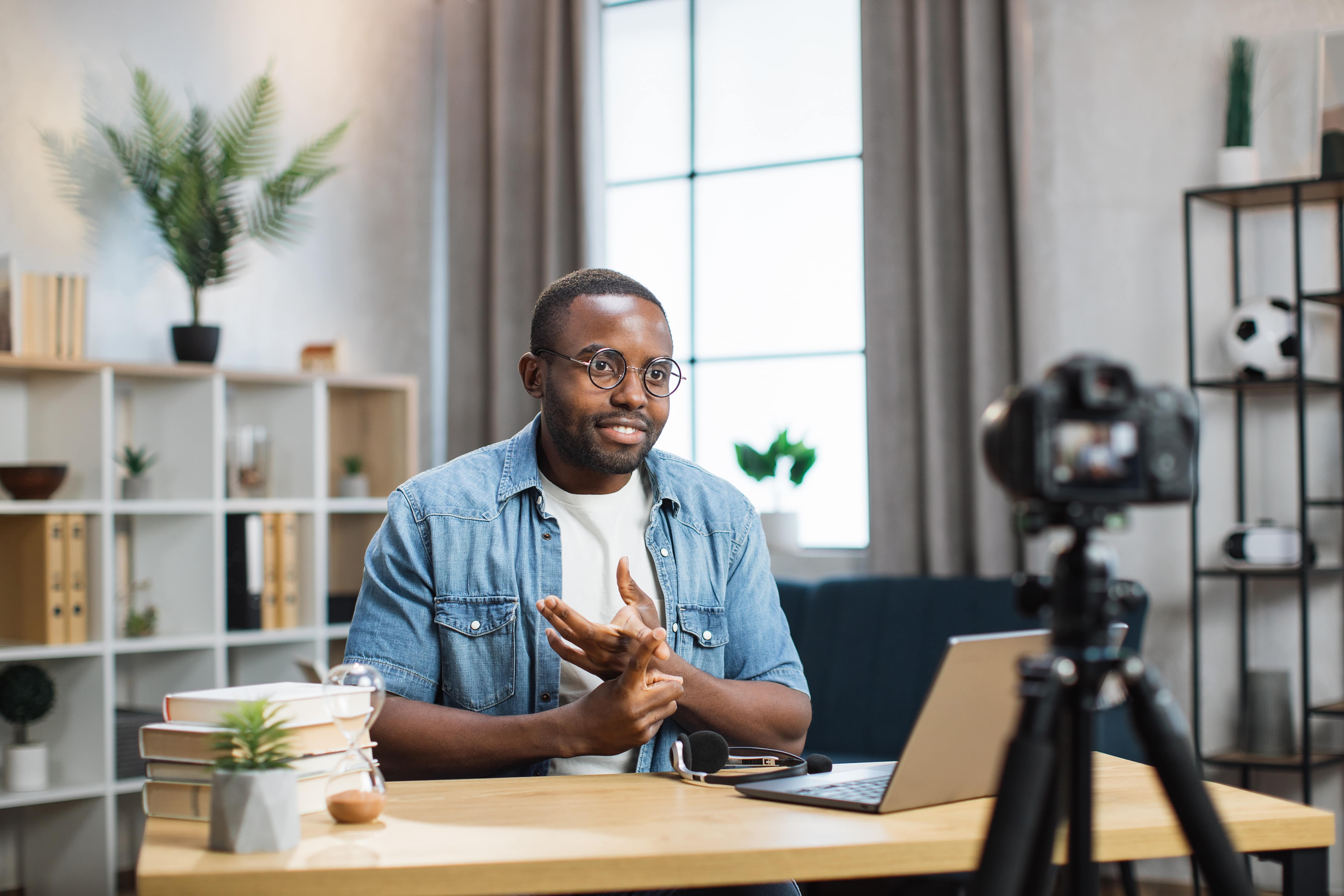 Leverage the Online Space to Get More Paid Speaking Opportunities
Continuing on with our blog series to help you find more paid speaking opportunities by industry (click here for the college market, or here for corporate clients), this week we're talking about leveraging the online space to get more virtual (and in-person!) speaking opportunities.
Even as people begin to fill more in-person seats, you can continue to use online presentations and events as a strategic tool to elevate your overall presence.
Using online events to grow your impact is particularly helpful if you've already invested some time and effort into your virtual presence.
For example, if you've been working or leading meetings during the pandemic, then you've already done so much to hone how you communicate to your audience from a distance. Whether that's from your home, or office, or other space. You can still capitalize on all that effort and find more paid speaking opportunities in the process.
Make Your Studio Look Even Better
If you don't have the money to invest in a multi-room, knockout studio, that's okay! That level isn't necessary to be successful. But there are a few things you can get to make sure your virtual presentations look great.
A 4k webcam
A lavalier or standalone microphone, plus an adaptor to plug into your computer
A ring light or LED panel lights
A backdrop that can be easily erected and customized with various fabrics, wallpapers, shelves, or other non-distracting decor. However, you should avoid using green screens because it tends to make movement look off.
Consider digital teaching tools, like Prezi Video for slides.
For more details, check out this blog: "Setting up a Home Studio as a Professional Speaker," and this Speakernomics episode, "Look and Sound Your Best on Camera."
If you have a great-looking studio with a compelling backdrop, you can even begin to leverage the virtual space as a sales tool. When a paid speaking gig comes up that you're interested in, whether it be live or online, set up the initial meeting or interview as a zoom call from your studio.
First, it will look fantastic. Second, after you've talked a bit and you've learned more about their needs for the event, you can begin to shift into presentation mode to deliver your sales pitch or why they should hire you, demonstrating your value as an online presenter on the spot.
Create Valuable Content in the Virtual Space
If you want to find more paid speaking opportunities in the virtual space, it's best you start creating and sharing valuable online content.
These can be podcasts, a pre-recorded live presentation, an online course, a YouTube series, the list goes on. Regardless of what kind of content you create, you'll be demonstrating your expertise and the fact that you can provide engaging, virtual content.
Be sure to cater your social media profiles to show that you are a "Professional speaker for both online and in-person events," or a "Virtual keynote speaker and business coach." You need to make sure you can be found when event planners and organizers are searching for online speakers. Create your own hashtags you can repeatedly use with your videos and posts. Also include hashtags that declare what you do, such as #virtualspeaker, #onlinepresenter and so on.
Consider creating a demo reel that focuses on your virtual presence. You could make a hybrid reel that shows both your onstage and online delivery, so the viewer can get a feel for your abilities no matter what the platform. Be sure to include that demo reel wherever you can be found online.
Learn How to Create a Speaker Agreement for Virtual Events
Learning how to create agreements for online events will help to protect you and your clients. And showing up prepared with a virtual speaker agreement (or mentioning that you already have one prepared) will instill trust and demonstrate that you're pro.
Here are some important things to consider when creating a speaker agreement for online events, courses, and presentations:
Adding a cancellation clause for technical problems outside of your control.
Reimbursements and expenses will be simplified or removed completely.
Include your preferred virtual platform into the contract.
Include a clause that addresses how any recordings of the presentation can and cannot be used.
To learn more about what you should consider in your virtual speaker agreements, check out this blog all about speaking contracts for virtual and hybrid events, or this Speakernomics episode about virtual tech mishaps.
In Closing…
For NSA Members who want even more resources on creating amazing virtual presentations, booking better paid online events, and more, just check out your NSAOnDemand to see tons of training webinars on topics such as:
How to Leverage YouTube for Lead Generation
Best Ways to Dazzle Audiences & Close Business Using Next-Generation Video Tools
How to Get Booked Stages by Growing Your Online Brand
The Practical Guide to Better Virtual Presentations
For those readers who aren't NSA Members yet, all the links in the article will give you some actionable tips to get you started in your journey to find more speaking opportunities in the virtual space. If you're ready to take your speaking business to the next level with our help, consider joining NSA to get education, support, special discounts and much more.