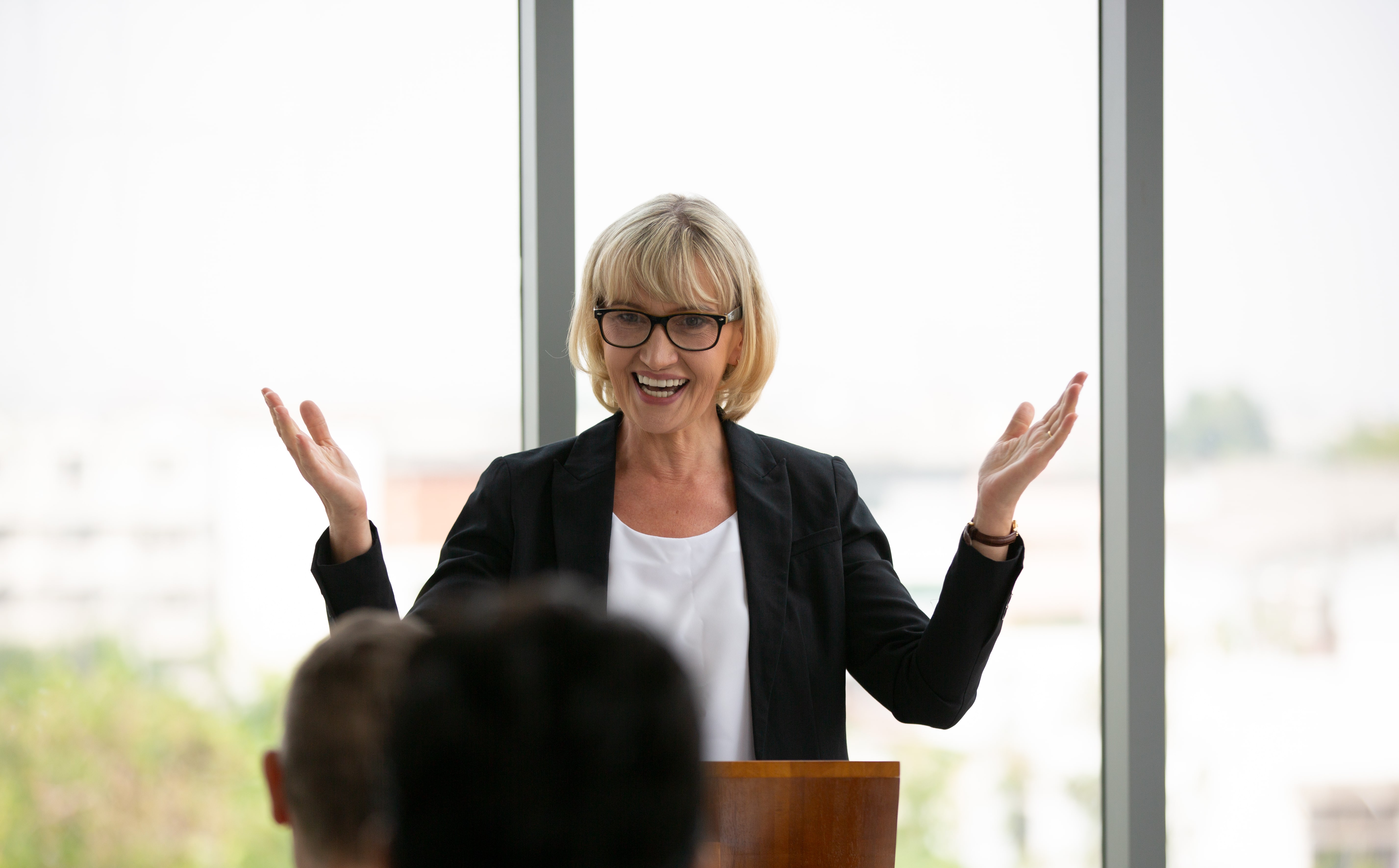 Booking Paid Speaking Gigs for Corporate Clients
As part of our blog series to help you find paid speaking opportunities by industry, this week we are focusing on the corporate market.
Before getting started on how to book more paid speaking gigs, it's important you establish your expertise in topics that are valuable to the corporate market. This won't just help with marketing yourself, it will give you direction with where to place your focus and which clients to target.
If you already have expertise in a certain industry, or some background as a "thought leader" in a certain topic, then you're halfway there. Consider how your topic can be applied to corporate entities, groups of employees, leadership teams and executives. Topics that are currently valuable to executives and leadership teams include personal development, productivity, wellness, leadership, and so on.
If you're still nailing down your topic focus or expertise, this helpful blog article on becoming a professional speaker has some more tips. To learn how to find and book more paid speaking gigs for corporate clients, keep reading.


Check Out Trade Shows & Business Networking Groups
Going to trade shows and connecting with trade associations allows you to connect with people in the event industry as well as the companies that spend money on events that hire speakers.
And with tens of thousands of national, regional and state trade associations in the United States alone, associations are fertile ground to find paid speaking gigs in the corporate market. These trade shows and associations are often looking for professional speakers to entertain and impress their audience. In the audience are usually executives from a wide range of companies. For you, it could be a paid speaking opportunity that gets you in front of thousands of potential corporate clients.
Begin by searching for various trade shows by industry, locate the event coordinator, and then email with a link to a short demo video. Always be sure to follow up.
On a smaller level, business networking groups are designed to connect individuals from a range of businesses for the purpose of bringing business opportunities to the other members. If you're just getting started, consider joining one and let your fellow members know that you're a corporate speaker who is interested in paid speaking opportunities and see what grows.


Always Be Looking Ahead
Something to keep in mind with large corporate events is that you'll need to apply in advance for these paid speaking gigs.
Most corporate conferences and large-scale events begin accepting applications for speakers almost immediately after their previous event. This means you'll need to apply almost a year in advance for some.
A great way to get a handle on all the dates is to input all the events you're interested in into a digital or physical calendar. Then, research each event and add the application deadlines in as well. This provides two benefits. First, you'll be able to see if there are still events you can apply for; and second, you'll have done the necessary research to set yourself up for success when applications open for the following year.


Act Like a Corporate Speaker
Even if you're not speaking at an event, try to attend conferences and events you want to speak at! This will allow you to get to know the conference organizers, the audience and, most importantly, the decision makers. Once you start making connections, you'll be able to reach out virtually and continue networking. And when connecting with others, always be sure to tell them you're a corporate speaker looking for paid speaking opportunities.
And no matter where you're speaking, even if it's not to corporate clients, remember that giving a great speech and providing an outstanding experience leads to more speaking gigs. No matter who you are giving a talk to — whether it's a church group, a local association, a school — deliver a great speech. And at the end, be sure to let your audience know you are a corporate speaker. You never know who's in the audience, so it's best to tell them what you do. You can do so directly by saying something along the lines of: "If you're interested in having me come speak to your company or at your next event…" or "As you can see, I'm really passionate about [topic]. If you know of a company who could benefit from my message, please let me know."
After the event, ask the person who booked you if they know of any companies or corporate contact they can refer you to.


In Closing…
Once you book a paid speaking gig with a corporate client, remember that most companies have more than one event per year. The bigger the corporation, the more likely they'll have multiple events going on each year in different regions. Be sure to ask the person who hired you to bring you in for other company events, or to refer you to the person who can.

Want more advice on finding paid speaking gigs? To learn how to find opportunities in the college market, check out this article; or, if you want more insights on getting started, check out this blog, "7 Ways to Find & Consistently Get Paid Speaking Gigs."