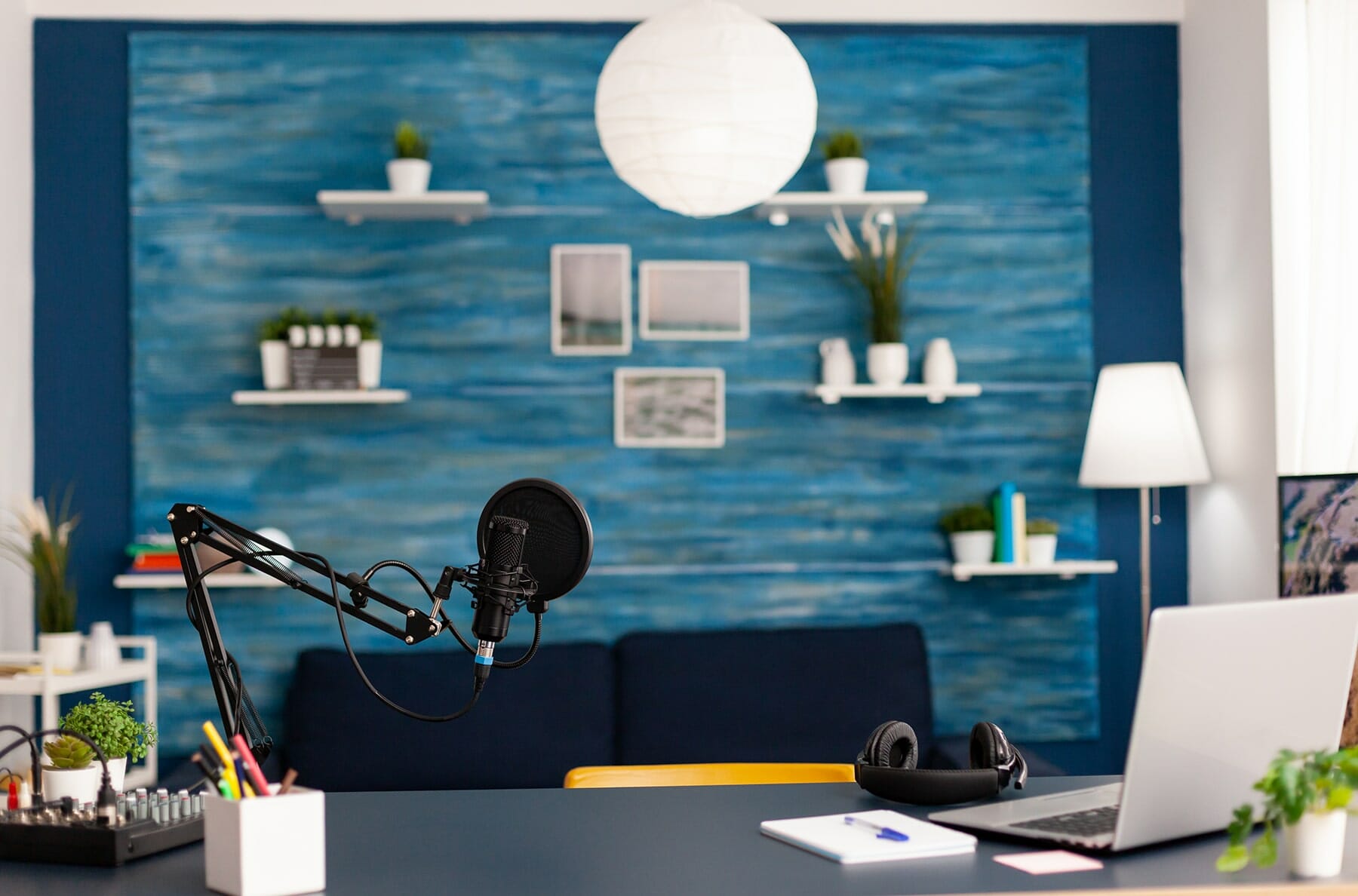 Setting Up A Home Studio As A Professional Speaker For Virtual Presentations
Even after pandemic restrictions become a relic of the past, virtual presentations are here to stay, and not merely as an afterthought or "second best" alternative. What the future mix of live versus virtual events will look like is anyone's guess, but the consensus is that virtual events are now a permanent part of the professional speaking landscape.
If you limped by in 2020 (and are still limping along in 2021) by creating less than stellar virtual presentations, it's time you upped your game. A quality home studio does not have to be an expert-level recording setup with soundproof walls and five-foot-long mixing boards. But it's also not using a Mac webcam to capture video and an iPhone microphone to record sound.
It Doesn't Need To Be Costly Or Time-Consuming
The good news: creating high-quality virtual presentations from a home studio is not an expensive, complicated, or time-consuming process. A professional-grade home studio uses the right space with the right equipment to make quality recordings. A proper setup should not cost you more than a few hundred dollars.
The best way to learn anything is to learn from those who do it best. We asked two professional speakers, who showed off their slick recording set-ups at a National Speakers Association event last year, their biggest do's, don'ts, regrets, and more, to help those looking to get started on their own home studio.
What Home Studio Pros Have To Say
First, is Crystal Washington, who believes in keeping things simple in order to not have to stress over technical hiccups during presentations. Here is her advice:
Q: What practices, equipment or software do you wish you had started using sooner rather than later?
A: I wish I'd used Prezi Video immediately for slides as I'm constantly receiving compliments. Additionally, I wished I'd used FlexClip for fun client promo videos sooner. Q: What practices, equipment or software did you realize were not an effective use of time or money for your virtual studio?
A: I didn't buy anything that I didn't use. I avoided buying switchers as I saw some peers crash and burn with some tech setups. Q: How do you see your virtual studio moving forward now that in-person events are slowly starting to return?
A: I see it remaining the same. I can tear down the equipment and build it up easily. I don't see video projects going away in the near future and I anticipate virtual programs will still be in demand for some events due to their affordability for planning organizations. Q: If you had to start over now building a virtual studio, what would you do differently?
A: Nothing. I'm extremely happy with the technology I use.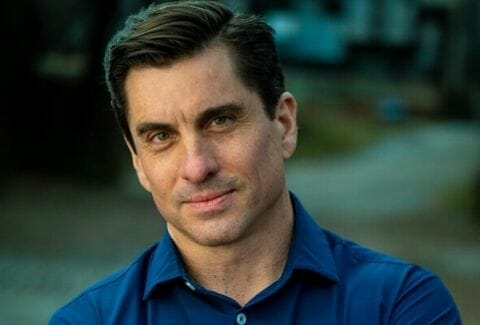 Next, is Dan Thurmon, who takes a different approach. His studio involves multiple cameras, a switcher, a fancy board – the whole nine yards. This is what Dan had to say:
Q: What practices, equipment or software do you wish you had started using sooner rather than later?
A: Menti.com has been great for interacting with audiences, and we probably could have used it sooner. I love my Samsung Flip digital teaching board. Overall, we are still using the same equipment, cameras (Blackmagic Studio), sound (Shure wireless lavalier with a Countryman E6 headset), lighting, and switching system (ATEM-8) that we used from the beginning. We've just gotten better at it and integrating additional production elements along the way. I also made the decision to run all our distanced (or virtual) events with a production crew (our teammate Stephanie Craig and my wife, Shay). We love working together and it is a real team effort to execute an event or recording session. Q: What practices, equipment or software did you realize were not an effective use of time or money for your virtual studio?
A: We initially bought a very high-powered computer, that works great but is total "overkill" for the setup. We also added a whole-house generator for the studio that will provide unimpeded power during an outage and will (along with our battery backups) deliver a seamless transition to backup power and wi-fi. We may never need it, but it's a great additional selling tool to persuade clients to go "live" versus "prerecord." Q: How do you see your virtual studio moving forward now that in-person events are slowly starting to return?
A: We will use it a great deal to continue to sell both in-person and virtual events. And we will continue to deliver live virtual events, produce custom videos, build online courses, conduct executive coaching, and all the other many uses we've discovered this year. Our virtual studio is also my practice facility, my creative laboratory, and a place I truly love to work. Q: If you had to start over now building a virtual studio, what would you do differently?
A: Very little. Thanks to my good friend Vinh Giang, I had the benefit of learning through, as Cavett would say, "other people's experience." Vinh shared everything he was learning in real-time with me and my wife Shay. Also, thanks to Shay's technical capabilities, including video production, we pretty much found our preferred solutions from the get-go. Our strategy was "Go big and stay home." We wanted to distinguish ourselves as a level above what others were doing, and we invested substantially (and wisely) to make that happen. We were blessed to be in a position to do so, and it was a bit of a gamble. But that strategy continues to serve us extremely well.
If you'd like to see their set-ups for yourself, you can watch their presentations in the National Speakers Association's Digital Vault.
Want access to a treasure trove of knowledge that will help you become a masterful presenter and speaker?
CLICK HERE TO GET THE NSA DIGITAL VAULT
Here Are Some Basics
The first question to ask yourself is, "Where am I at right now with my home studio?" Hopefully, you're not still using your laptop webcam and built-in microphone to create your virtual presentations.
Let's run through a quick review of the basics.
Start with your home studio space. Is there an interesting background behind you? Not too busy, but not a white wall either – perhaps a bookshelf, or a fireplace, or some artwork. You will be buying some lighting to use when you record, but also be sure to control any outside light source that enters this space with curtains or blinds.
To the degree possible, the space should reflect your brand. For example, if you're an expert auto mechanic and you're instructing people on how to restore classic cars, your studio should be in a garage. If your expertise is psychology and self-help, you might present a warm, "therapy is in session" vibe.
One important tip – avoid using greenscreens. If your background is fake, how does that reflect on your credibility? Greenscreen backdrops also make people look weird if they move around at all.
Here's a list of the equipment suggestions to create a professional level home studio:
A 4k webcam (Logitech Brio 4k webcam is a good choice)
A lavalier microphone (a small mic that you pin on your lapel)
A microphone adapter (a box that feeds your mic's sound output into your computer. Scarlett makes an excellent adapter)
A monitor (size varies depending on your strategy)
A ring light or LED panel lights
A laptop holder
Even the latest computer webcams, whether built into PCs or Macs, are insufficient to produce broadcast-quality video. You will need to purchase a 4k camera with a robust software package.
When we record in-person events, the standard is to use four separate cameras – one for a tight shot, another for wide, a camera to record audience reactions, and another for the full room view from the back. A video editor then combines all four videos into the final product. While this may not be possible with virtual events, you can come quite close to duplicating this technique.
Use your external webcam as your tight camera and your iPhone or Android camera as your wide shot. While built-in webcams on Macs or PCs are not high quality, the latest smartphones all have excellent built-in cameras. You can employ a third HD camera in your space to provide yet another view of the presentation. Just as with a live event, the video editor takes all of this raw footage and creates a compelling presentation video.
Always use a lavalier or standalone mic to record your audio. Integrate your recording with Zoom and lay it down in Quicktime or a similar program.
The importance of using a video editor to polish your virtual presentations cannot be overemphasized. A good editor knows exactly how to mix different camera angles and insert transitions so that your presentation is polished and is broadcast quality.
Final Thoughts & Further Learning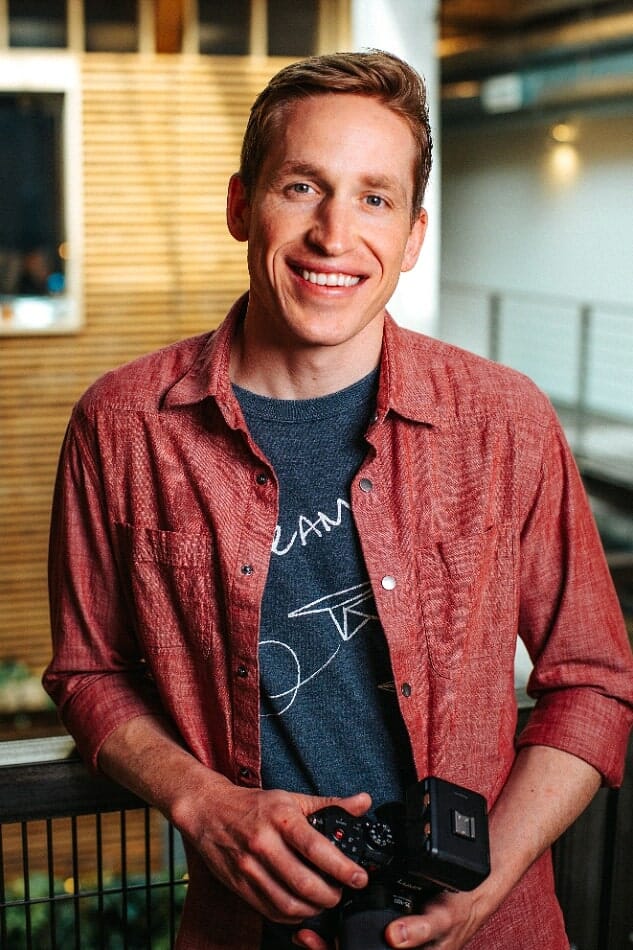 This article is intended to give you an overview of the process, not a step-by-step instruction manual on building a home studio and creating sterling virtual presentations. However, if you're looking for that level of detail, we have you covered.
To access a course on exactly how to build your home studio and make a top-tier virtual presentation demo package, check out the NSA's Digital Vault. Inside the Vault's Learning Center, you'll find a presentation by Chris West from Influence 2020 titled, The Complete Guide To Going Virtual.
Everything discussed in this article is covered in depth by Chris in his course, plus much more.
Chris has links that help you buy the best equipment at the best prices. He also answers frequently asked questions posed by professional speakers just like you.
Also, there are two other excellent presentations on building a home studio in the Digital Vault, one by Brian Fanzo and another by Crystal Washington.
Virtual presentations are here to stay. If your home studio or virtual presentation production techniques are not where they need to be, consider upgrading your process now. Creating showcase quality virtual presentations is an absolute must for every professional speaker in 2021 and beyond.
Are you looking to level up your speaking skills or aiming to become a professional speaker? Then join NSA today and experience all the incredible benefits!