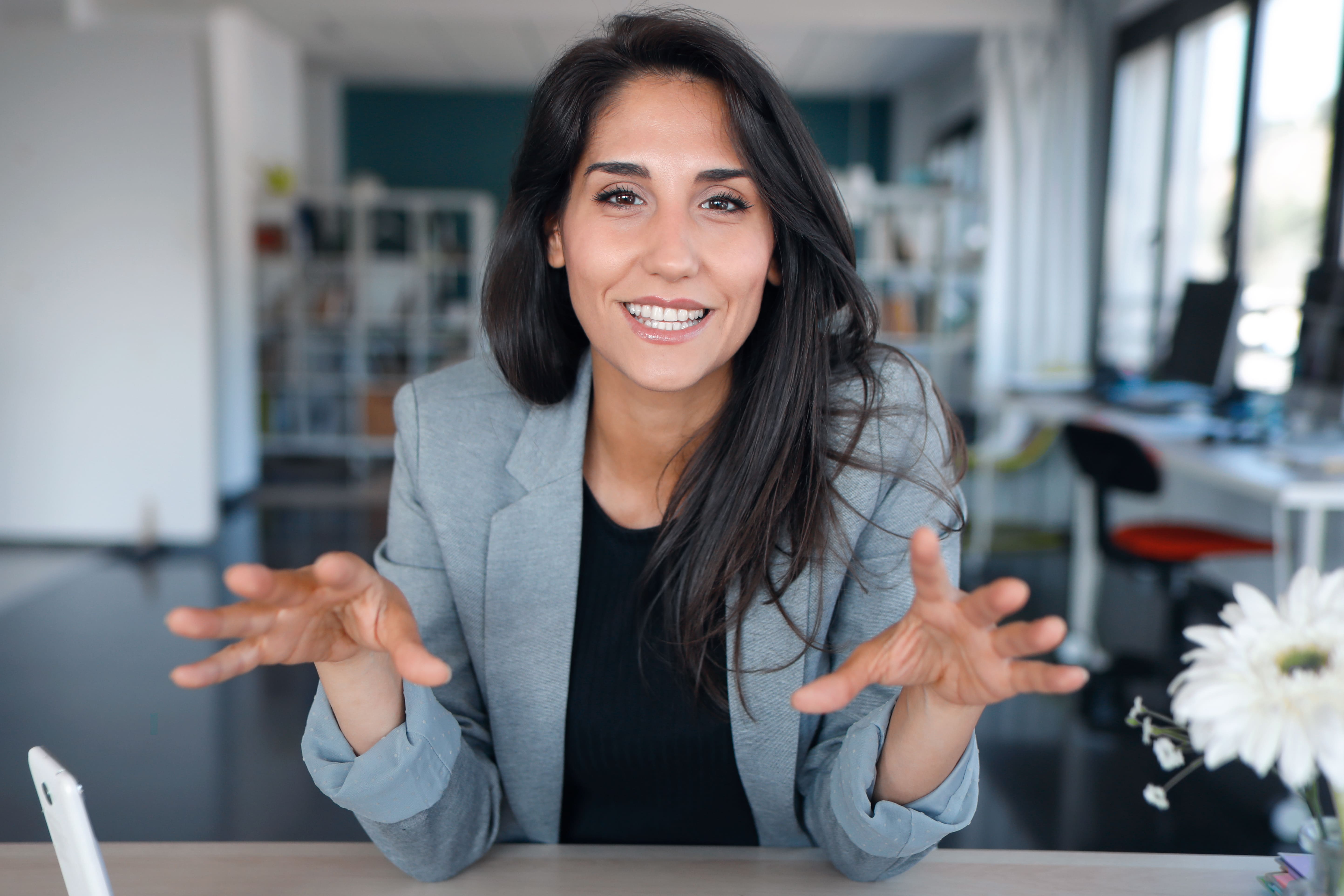 Actionable Tips and Affordable Tools to Upgrade Your Online Video Presentations
When you see a great live presentation, it can dissolve the feeling of distance. It feels more interactive and personal. The message makes a bigger impact.
If you have a killer video presentation to match your message, that can make all the difference between a meeting planner choosing you or someone else with a great message but a lackluster virtual presence.
But how do you upgrade your online video presentations without spending tens of thousands of dollars outfitting a complete studio?
Today's article is going to dive into actionable tricks and affordable tools to improve your video presence, whether you're giving virtual presentations, pitching a keynote in a zoom meeting, or facilitating small-group workshops.
Many of the recommendations in this article come from Robert Kennedy. Robert helps small business owners leverage techniques around storytelling to make their online video presentations as compelling and engaging as possible. His tools and tricks can be implemented immediately to help you stand out for all the right reasons.
Improve Your Visuals
Much like "location, location, location" is the most important detail when it comes to fantastic real estate — "lighting, lighting, lighting" is one of the most vital elements to making a great video.
Getting your lighting right does much more than simply letting people see you. When you have your lighting right, people understand that you are the content expert. It shows that you are the one people should be paying attention to.
Ring lights are the most accessible way to get some lighting on your face. While they can work great, keep in mind that they were originally created for close-ups. That means they work best for close-range shots, but not necessarily for videos where you might be standing further away.
Another challenge with ring lights is that while they spread the light evenly, they also reflect in your eyes or glasses. Here's a tip to overcome that issue: if you have a ring light, place it at an angle instead of directly in front of you.
What is most recommended for better online video presentations is to incorporate three-point lighting. This provides a depth-of-field you simply can't get with a single light.
Three-point lighting is one light on your right, one light on your left, and one light behind you, which will create depth. The lights in front of you (the "key" light and the "fill
light) should be placed at an angle of 30 - 40 degrees to your face. The key light illuminates your "best" side, and the fill light balances everything and fills in the shadows.
Depending on what look you're going for, you can adjust the strength of each light to fit your preferred aesthetic. For example, if you want a cinematic appearance — you can turn your fill light down or completely off. This will provide a dramatic look.
Robert Kennedy uses the Elgato Key Light Air which comes with stands that you can raise or lower. They also work via WiFi, so you can control the brightness and the temperature from your computer.
When your lighting is on point, almost any webcam will work! Again, you don't have to spend hundreds of dollars at the outset. Robert himself now uses a Panasonic LUMIX G7 with an upgraded lens (16mm), but web cameras around $100 (like the Logitech Brio), work great…if you have good lighting. If you do, any webcam will look like you're using a $1000 camera.
One final lighting tip. If you really want to craft a beautiful background, get some shelves behind you and incorporate LED strip lighting. The strip lighting can really make your background glow (without being distracting), and your whole video will pop.
Upgrade Your Sound
One of the best things you can do to improve your online video presentation is to upgrade your microphone.
You don't need to get anything incredibly fancy, but most video experts suggest that you do not use your laptop microphone.
Why? Most laptops use a condenser mic, which is designed to pick up as much sound as possible — the drone of a lawnmower in the distance, your spouse or kids laughing two rooms away, and even when the fan kicks on in your laptop!
Look for microphones that give you the ability to move around. That means the "gain" should be adjustable. If you want to be sure to capture the best sounds of your voice without the echo sound of the room, you'll want to get to know the difference between dynamic and condenser.
Robert Kennedy gives us the short-and-sweet explanation of what these are in his Speakernomics interview, "Look and Sound your Best on Camera with Robert Kennedy:"
"A dynamic microphone is typically one that you hold closer to your mouth, so it blocks out much more room noise. A condenser microphone, while it points toward you and will block out some room noise (if you have a really good one), it's still going to pick up some of that noise."
Robert himself uses the Shure SM7B, a "classic" studio microphones that runs about $400. But he says it doesn't need to be expensive. You can get some great microphones for $40 - $80. For speakers who are just getting started, he recommends the Samsung Q2U, which at the time of writing was under $70.
In Closing…
Improve your online video presentations and you will be more effective as a speaker. You'll engage your audience more, and you'll clearly stand out against the competition.
We know we shared Robert's best tool recommendations for better online video presentations, and we wanted to leave you with a few BONUS recommendations, courtesy of another NSA favorite, Graeme Newell:
Stock Video: Envato Elements Stock Video Service
Microphone: RodeVideoMicNTG, Sennheiser Headset
Adapters: Elgato CamLink 4k, Decimator Video Flipper
Switching Software: Ecamm Live Switching Software, StreamYard Switching Software
Teleprompters: Ikan 12" or 17" Teleprompter
Lighting: Home Depot Shop Light, Home Depot LED Panel, Neewer Ring Light
Backgrounds: Chromakey Collapsible Background, Seamless Paper, Amazon Photography Wallpaper
Cameras:

Logitech C920c Pro Webcam, Logitech Brio Ultra Webcam, Canon EOS M50 Mark 2 Camera, Canon Zoom 16mm Lens, Elgato FaceCam