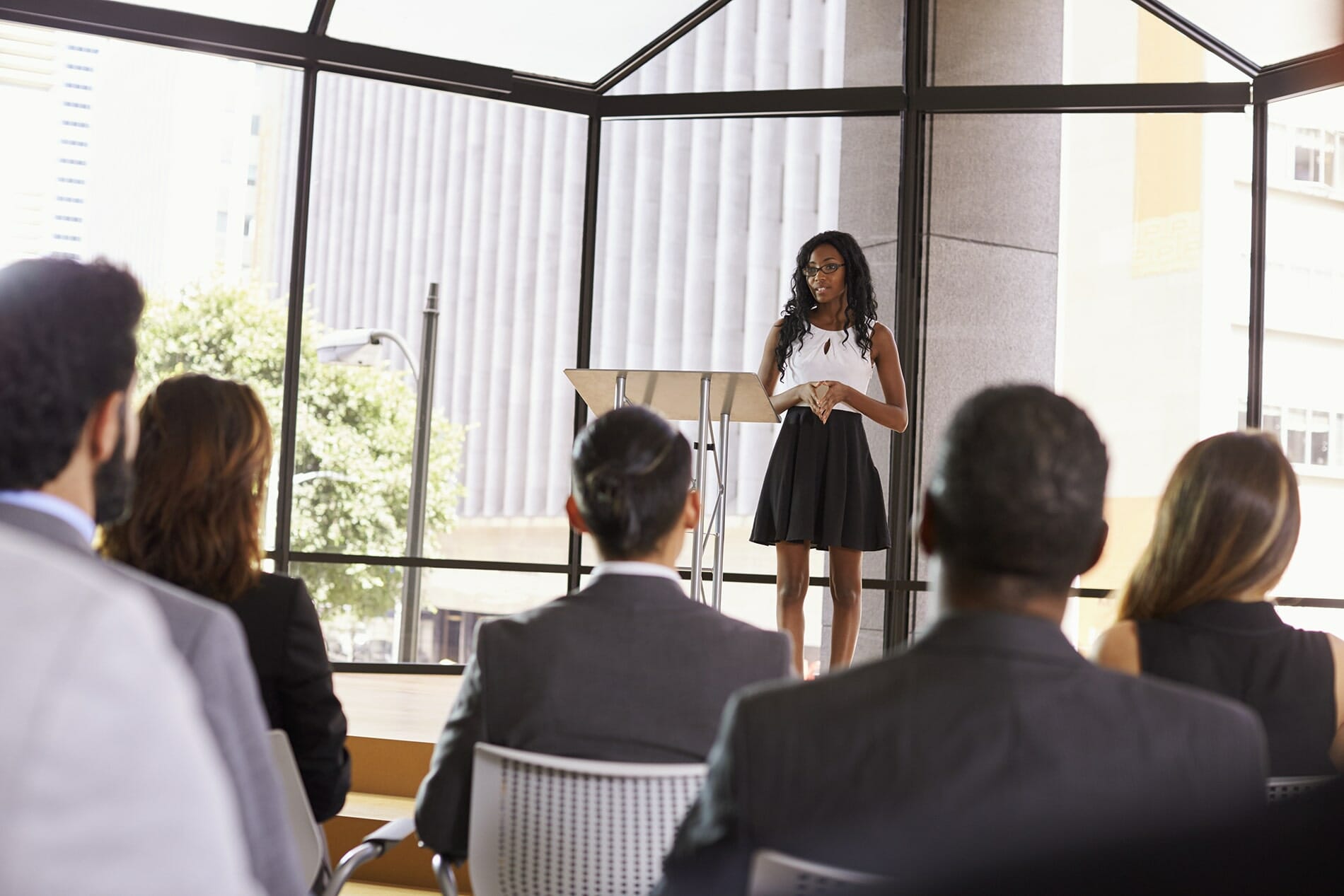 How to Get Started As a Professional Speaker
Anyone can be a "speaker."
But if you want to be a professionally paid speaker that is regularly sought after for well-paid speaking gigs…well, that requires a little bit more effort.
Here we've created the must-do start list to give you a solid foundation to grow your speaking business.
And even if you're well along your way as a professional speaker, it wouldn't hurt to peruse the list below. You might find a few areas you can rework or tighten up. And in doing so, you may open up new opportunities for yourself.
Establishing Your Expertise
Most likely, you have some idea of what you want to speak about, so the next step is building on what you know in a strategic and authentic way.
If you already possess a unique skill set and or have a background as a "thought leader" in a certain industry or space, then establishing your expertise might come very easily to you.
For those who are still figuring out their focus, establishing your expertise in a particular area will help you a ton with branding and marketing yourself. Not only does it give you a direction to aim your marketing, it gives you and your audience a solid "why" to hold onto.
So, to help you dig in, try this exercise: write down in one to two sentences a statement that concisely outlines who you are and what you bring to the table.
Trying to nail down everything that your current passions, skills, and experiences bring to an audience in a couple lines is harder than it sounds. But it's worth it.
Once you do, you'll be able to articulate why you should be booked in a clear and digestible way. And you'll experience a lot less friction showing your value as a professional speaker.
Find Your Actionable Message
Finding an actionable message is the tangible value you pass on.
What transforms a "good" speech into an engaging, memorable speech that stirs the audience and event organizers into wanting to tell their friends?
It's when you inspire them to do something. To change something. To have a new perspective. To try a new approach. To integrate something into their professional or personal lives.
If you really want to be memorable and have more of your audience broadcasting you to their networks, then finding an actionable purpose they can sink their teeth into is key.
Do this by considering practical ways your audience can apply what you share to their lives for some "quick wins" within the next day or week of hearing you or attending your talk.
Another benefit of identifying your actionable message is it can become the thread from which you can knit all of your content.
Establish Visual Appeal
Creating a simple brand guide will go a long way to give you a professional edge.
Because whether you're doing it all yourself, or hiring a designer, video editor, or admin assistant now or down the line, it is always helpful to have a brand style standard operating procedure.
This will help you create a consistent look and feel for your talks, of course, but also for all the content you create, including videos, blogs, social media posts and more. Here are some tips:
Consider your brand colors. While there are endless articles about which colors are associated with what feelings, the colors you choose are really up to personal taste. Just look for a family of shades you can use so your design is always complementary to each other, not a cacophony. You want to be memorable in a good way!
Consider your brand fonts: Choose something easy-to-read that doesn't detract from the message you're sharing. And then be consistent. Like brand colors, you can often find "font families" that work well together.
Consider your brand style. This can be everything from what kind of images you use (Black and white only? Primarily nature images? Images of people?) to whether or not you include shapes for visual interest . To define a consistent brand style, think back to what your key message is. This can dictate whether you use organic, natural shapes or more structured, geometric formats.
Get Involved!
Getting out there, being active in your industry, and becoming known by leaders in your target audience will help to keep you top-of-mind.
Oftentimes, you put in the effort, and it will open doors.
The networks you put time into will recognize you as someone who stands out as a mover and shaker. Dynamic involvement will help you create the momentum that translates to regular speaking opportunities.
So whether you're sharing free video content every week, posing thought-provoking questions or one-liners on social media platforms, or getting involved with local events and virtual conferences, they can help you to become the go-to person for more speaking gigs.
Continue to Improve Your Skills
One of the best ways to create more perceived value about you as a paid professional speaker, is to build upon your actual value.
In short, invest in yourself! It will pay off.
You might have a really inspiring story, tons of useful lessons, or be naturally funny. But if you can't really connect with the audience on a deeper level, or learn how to use your natural gifts to provide lasting impressions, then you won't be getting booked nearly as much as you could.
So whether that means taking a class, hiring a branding coach, or joining a public speaking organization, getting guidance from pros will only help you deliver your message in a way that gets people excited and expands your reach.
If you're seriously interested in becoming a professionally paid speaker, follow the tips above, and you'll have a solid start in the right direction.