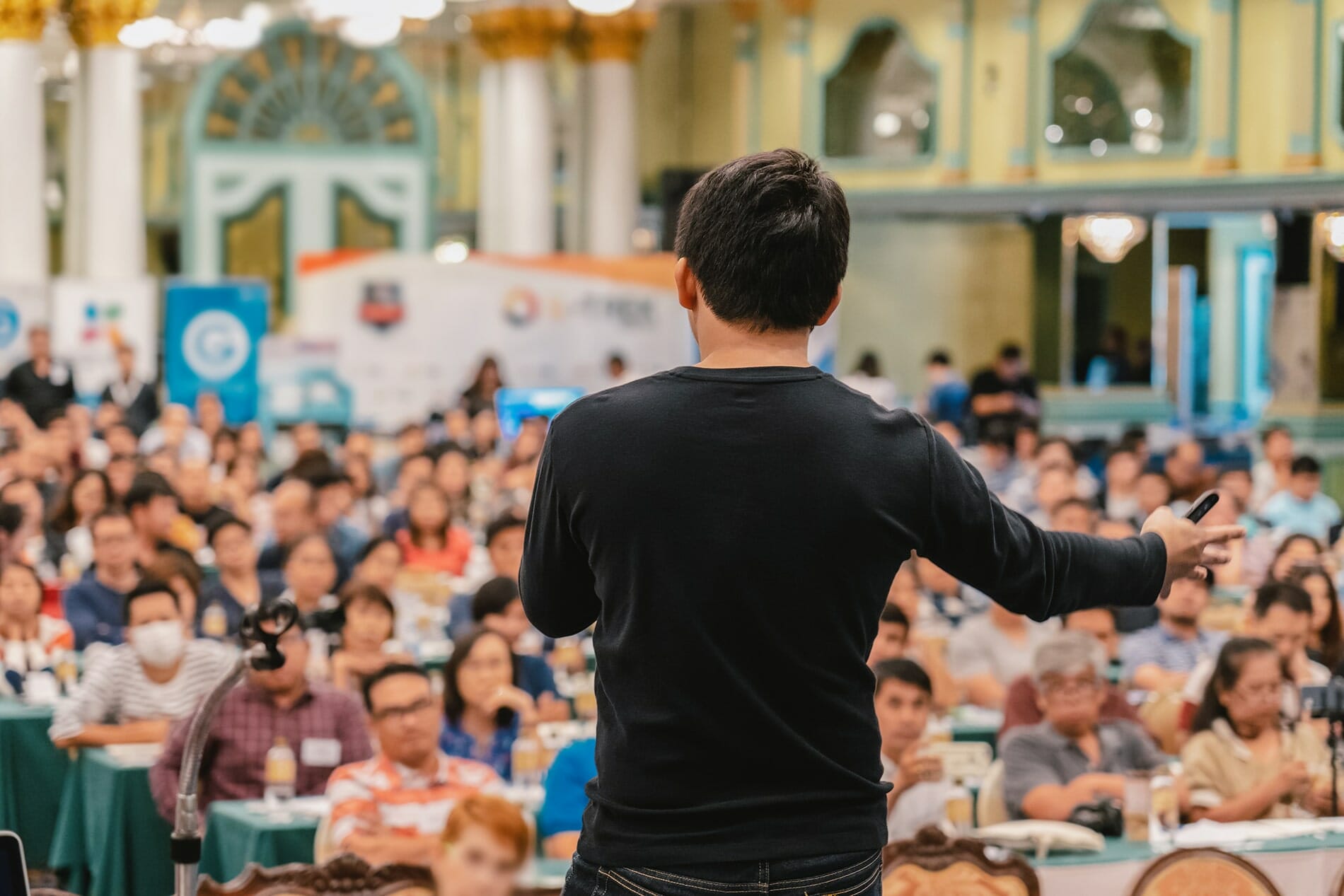 7 Ways to Find & Consistently Get Paid Speaking Gigs
Hundreds of thousands of events, conferences, and festivals happen around the world each year, and the industry is projected to grow by 9% in the United States alone through 2029.
Yet, even with all those conferences, finding and securing consistently paid speaking gigs can still be a challenge.
Especially if you're just getting started as a professional speaker.
To help, we are sharing 7 approaches to help you find and get more speaking gigs.
For more success, we recommend narrowing your scope by industry, topic, and/or geography, whenever possible. And always have an updated list of leads to contact and their current status, as well as a list of events and conferences you're interested in.
1) Use Hashtags as a Research Tool
If you use hashtags wisely, they can play a huge role in getting you more paid speaking gigs.
Because who uses hashtags? Conferences. Events. Non-profits. Meeting planners. Other speakers. Contacts for potential speaking gigs!
Start looking for relevant hashtags to follow. Then dig into each one even more to unearth more conferences and events that you're interested in. And more importantly, people you can add to your contact list.
Twitter is the most well-known for utilizing hashtags, but almost all major social platforms have them, which means you can search across platforms.
Here are a few ones to get you started: #events, #eventprofs, #businessevent, #meetingprofs #keynote #keynotespeaker #event #conference.
When possible or relevant, look for industry-specific, audience-specific, or location-specific hashtags, such as #HawaiiConference, #MarketingConference, #STEM
In addition, you should take note of the hashtags other people use. Which brings us to the next tip…
2) Follow Event Planners
Since social media is designed for people to connect, announce and advertise, it works well to find and follow people who can get you lead sources for paid speaking gigs!
Event planners are the people who most often organize the events that hire speakers, so be sure you are following them and what they're up to.
When you find them on social media, take note of who they follow, what events and conferences they are attending or organizing or excited about.
And after connecting with them, if the social media platform recommends "similar" people to follow or connect with, do so!
3) Take a Tip From Other Speakers
If you're following successful speakers in your industry on social media, look further into them. If you're not, start following some fellow speakers!
Their success is a learning opportunity. Check their schedules, see what they charge, look at their website, and see where they're speaking.
All of those events they're speaking at, attending, or posting about have coordinators you can reach out to which can reveal hidden opportunities.
You can also learn from other speakers by joining professional groups and associations. Successful professional speakers will often share with others what has worked for them.
4) Attend Conferences with a Focus
To start being considered by those who are looking for speakers, you need to start connecting with them.
You do that by attending more conferences and events and getting to know the organizers. You don't need to be in their face about it, but by being around and knowing who's-who, you will know who to follow up with later.
You can also leave a testimonial about the conference, or post a photo on social media with the event hashtag to add value and stay top-of-mind.
If staying at a hotel for a conference, look around at the literature. Do they have placards or displays or other announcements about upcoming conferences? Write down names of contacts as well as conferences you may be interested in speaking at the following year.
5)

Leverage Google Alerts
You should also be sure you're taking advantage of Google Alerts.
Just go to google.com/alerts in your browser and enter in a search term for the topic you want to track. Create the alert and it will email you whenever it finds new results. You can set it to daily alerts, weekly, and as-it-happens.
To avoid being flooded with thousands of updates, you'll want to be a little more specific than just using words like "conference" or "event." As with hashtags, try setting up alerts with keywords specific to your industry or geographic area.
Then just be sure to check your email and follow up. This will provide you with a wealth of conferences to explore and contacts to reach out to.
6) Colleges, Corporations, & Associations
If you're looking into colleges, there are two associations that run fairs and conferences to help book entertainment: NACA (National Association for Campus Activities) and APCA (Association for the Promotion of Campus Activities). If they don't seem right for you, you can directly contact the "Campus Activities" department to speak to event organizers.
The National Speakers Association did an entire podcast episode dedicated to speaking at colleges. You can listen to the episode here.
Big corporations have the money to engage, train and motivate their teams and that includes hiring speakers.
If you speak on anything related to certain industries, sales, leadership, or diversity, that narrows your search. Make a list and then reach out to each organization's SVP of Sales or HR, depending on your topic.
Associations are a great place to look for more speaking gigs, especially in the corporate world. The Directory of Associations is just what it sounds like and a great place to start researching.
Search associations by type or category, look at their websites, and see what kind of events they promote. If you look like a good fit for each other, add them to your list.
7) Consider Destination Management Companies
A Destination Management Company (DMC) is a third-party company that usually provides professional services (including speakers) for any or all aspects of "destination" events.
When event planners or corporate offices are tasked with planning an out-of-town event, they'll often enlist the help of a DMC. If you build relationships as a go-to speaker with a local DMC, you are sure to have a source for speaking gigs.
Look to the Association of Destination Management Executives (ADME) for a directory of members.
As you start using these 7 tips, remember to always be building a solid contact list. Once you get the ball rolling, you will be consistently finding and getting paid speaking gigs.