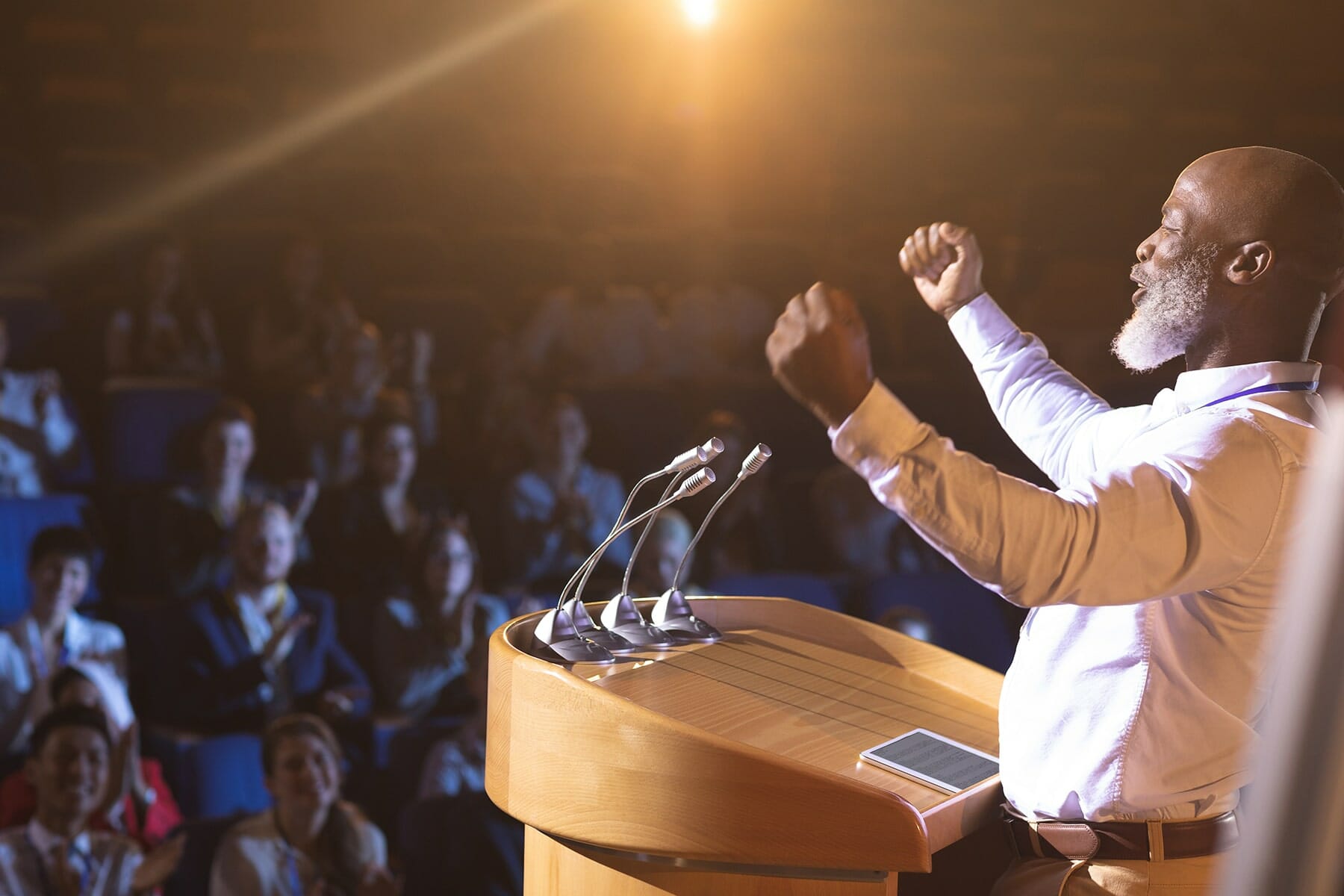 6 Public Speaking Tips to Become a Better Speaker
Only about 10% of individuals in the US report actually enjoying public speaking. As someone who wants to be (or already is) a paid professional speaker, you're probably part of that 10%!
But enjoyment doesn't make an impactful and memorable speaker.
So, to help you become a better speaker here are 6 tried-and-true public speaking tips.
1) Limit Your Use of Media
Visuals are important. They can be highly impactful, and help people focus on the main points you want to drive home.
However, a presentation that overly or heavily relies on multimedia or PowerPoint can ruin or adversely affect your talk altogether. So, if you incorporate multimedia in your speech, make sure you do so judiciously.
Don't make a slide for every single point, and never fill the screen with paragraphs and tons of words. Not only is it distracting, but your audience will focus on reading the screen rather than listen to you.
Instead, whenever utilizing multimedia, focus on concise statements and simple images.
2) Focus on your Audience
Make sure that your message and the way you're communicating it is suitable to the needs and requirements of your specific audience.
Who are you delivering to?
What important concepts might they grasp easily?
What might be more difficult?
What do they already know?
Will technical jargon work for them? (Hint: most likely, no!)
Here's another tip: if you want to get the best outcome and make the most impact from your presentation or speech, the best thing you can do is simplify your message.
A common error is to think that to show one's value is to share as much detail about a topic as possible.
But, more often than not, that's the opposite.
Breaking up your speech into smaller chunks comprising advice, questions, insights, or examples that will maintain the focus of your listeners throughout the presentation.
3) Connect with Emotions and Logic
In order to grab your audience's attention and connect to their minds and hearts, you'll want to speak to both their emotions and logic.
Incorporate stories and humor to draw your audience in with emotion. Then, drive home your message by sharing some statistics, evidence, or research that provides a logical foundation for the emotional story you shared.
4) Engage with Eye Contact
While this may seem like a fairly basic tip, it is still essential for improving your public speaking skills.
Remember, you want to make a connection with people – eye contact is one of the best ways to do so.
And an added bonus is eye contact allows you to gauge their reactions and adjust your message accordingly.
Looking at the back of the room or delivering a speech without feedback might make you look like a robot that is simply reciting a memorized speech, rather than a steller public speaker who is connecting and communicating with their audience.
So make an effort to make eye contact. This will ensure your focus is in the right place, and you can make adjustments as necessary.
5) Be Yourself
This may take some time, but it's one of the most important things you can do – be yourself!
There is nothing wrong with learning from the masters or taking some tips from successful peers you admire.
But it's essential you find your own voice and your own style. If you are faking during a speech or ripping off someone else's style, someone in your audience will notice.
If you're just getting started, don't worry if you haven't found your particular style just yet. As you master the fundamentals and continue to gain confidence, you will become a better speaker!
We also have a fantastic Speakernomics podcast episode to help hone your authentic voice. Click the link to check out: "Authenticity with Dr. James Smith."
6) Start Small and Practice
Practice is the key to overcoming self-consciousness, distracting habits, and nervousness. Practice is where you really find your stride.
So take these tips and start by giving a presentation to friends and family or coworkers. That's one of the best ways to work on your weaknesses, find your flaws, and learn where your strengths really shine.
Look to friends and family members, coworkers and neighbors first, and then keep expanding as you polish your skills and gain confidence. You can even start just by videotaping yourself and watching it. That alone can help you get over your nerves, practice, and also find new ways to improve.
Bottom Line
Use the above-mentioned tips for improving your public speaking skills, but keep in mind that these are some basic tips.
As you move forward in becoming a professionally paid speaker, you will need to learn a few other fundamentals to deliver speeches that have impact, but these will give you a firm foundation for growth.