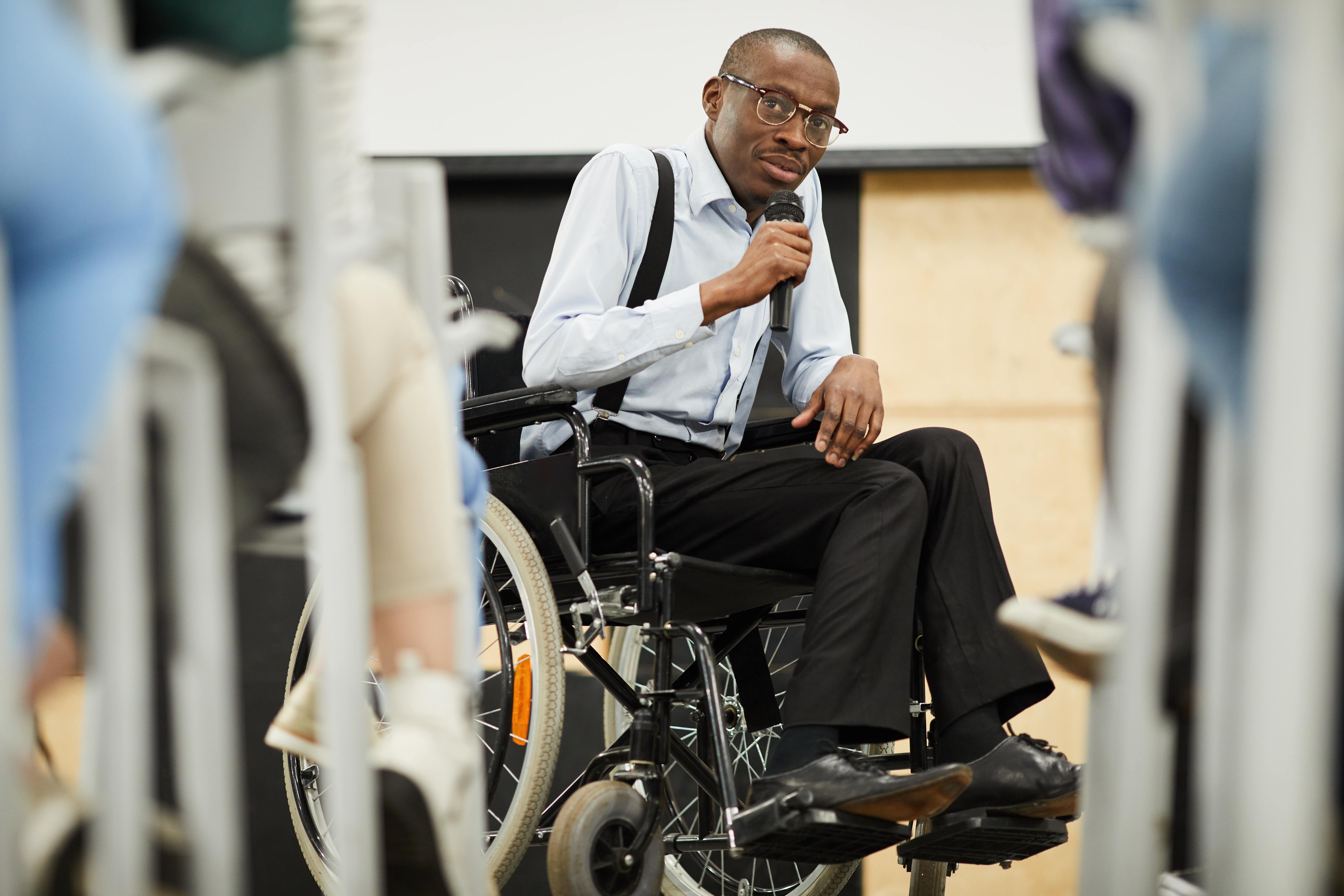 Make a Speech Memorable Using Next-Level Authenticity
Last week, we created a guide for beginning speakers on how to make a speech memorable. We brought together five insights that pro speakers have exclusively shared with us at the National Speakers Association.
Today, we're going to expand on that guide, and show all speakers (beginner speakers and experienced ones, alike) how to make a speech even more memorable with next-level authenticity.
Enjoy trying out these authenticity tips, courtesy of these three talented keynote speakers and NSA members: Brandon Farbstein, Dr. James Smith, Jr., CSP, and Peter Katz.


Make a Speech Memorable by Showing Up As Yourself
This first tip, "show up as yourself," comes from Brandon Farbstein, renowned speaker, Gen Z activist, author and the youngest person to ever join the National Speakers Association.
Brandon has a unique perspective on showing up as oneself. In his most recent Speakernomics interview (listen here for his complete story!), Brandon spoke about what life was like with an extremely rare form of dwarfism. The attention it garnered him wasn't always positive, and sometimes it was downright cruel.
Because of that, his differences were something he used to hate. But after much time, trials and tribulations, Brandon discovered that being unique and different wasn't something to be hated. It was something to be embraced.
Which brings us to his authenticity tip: When you show up as the most "you" version of yourself, you will have an exponential impact on your audience.
Brandon's story is extraordinary; but, don't let that intimidate you from showing up as yourself. Because when he started getting up on stages and seeing other speakers, Brandon realized something…
Even though his personal story was so very different from everyone in the audience — they could all relate to the feelings he shared.
Alternatively, if you go the other way and try to include a message that isn't entirely part of your platform — say, because you see it working for another speaker — your audience might hear what you're saying, but your message will be diluted and it won't resonate as deeply.
By simply showing up as yourself, the impact you and your speech can have is amplified.
Make a Speech Memorable by Seeking to Express
This tip comes from Dr. James Smith, Jr., CSP, a keynote speaker, author and facilitator who teaches people how to get out of their own way, not settle for mediocrity and live out loud right now.
And that tip is: "You got to present to express, not impress."
A lot of times, especially for beginning speakers just starting out, a lot of the focus is on speaking to impress — it's for those standing ovations, the accolades, the pats on the back in the hallway (i.e. "you were the best speaker at the conference"), the social media likes and the followers.
While all of those things are not inherently bad, as you become a more experienced speaker, you realize something. Those affirmations in the hallway and likes on social media might help build a reputation, but they aren't the thing that's paying your bills.
What's paying your bills is when people come to hear you speak and you bring passion and clarity and inspire them. When you do that, you touch people and connect with them, and more business will come your way.
That's what happens when you present to express, rather than impress. Expressing means you are sharing your truth — that authenticity is instantly more compelling than whatever "trendy" perspective is being shared by everyone else at the moment.
Make a Speech Memorable by Knowing Your Purpose
This final tip on next-level authenticity comes from Peter Katz, keynote speaker and singer/songwriter.
Last week's blog featured his tips on how to "curate the experience" onstage. He also has a great perspective on how knowing your purpose will help to make a speech memorable, which is why he's making a second appearance in this week's article.
His tip to becoming more authentic and making a bigger impact with your message? Know your purpose.
Most audiences are coming to be uplifted, transformed, and/or entertained. It's easy to get lost in all of that and try to do everything. But, before you step on stage, you want to figure out, and sink into, your own "why." Why are you there? What do you hope to bring to the audience?
You are the only one who can answer that, and that's what makes knowing your purpose so authentic and powerful. You are the only one who can bring forth your lessons learned. Don't deprive your audience of your unique perspective by trying to fulfill someone else's purpose.


In Closing…
Bringing the authenticity of your lived experience can be one of the most powerful methods to make a speech more memorable. We hope you will take these insights to heart and try a few out! Remember, showing up as yourself, sharing your truth, and knowing your purpose are some of the best ways to sink into next-level authenticity. It will help to make your speeches more memorable, you'll have a bigger impact on your audience and you'll get more business! Not only that, you'll feel better bringing yourself up on stage.