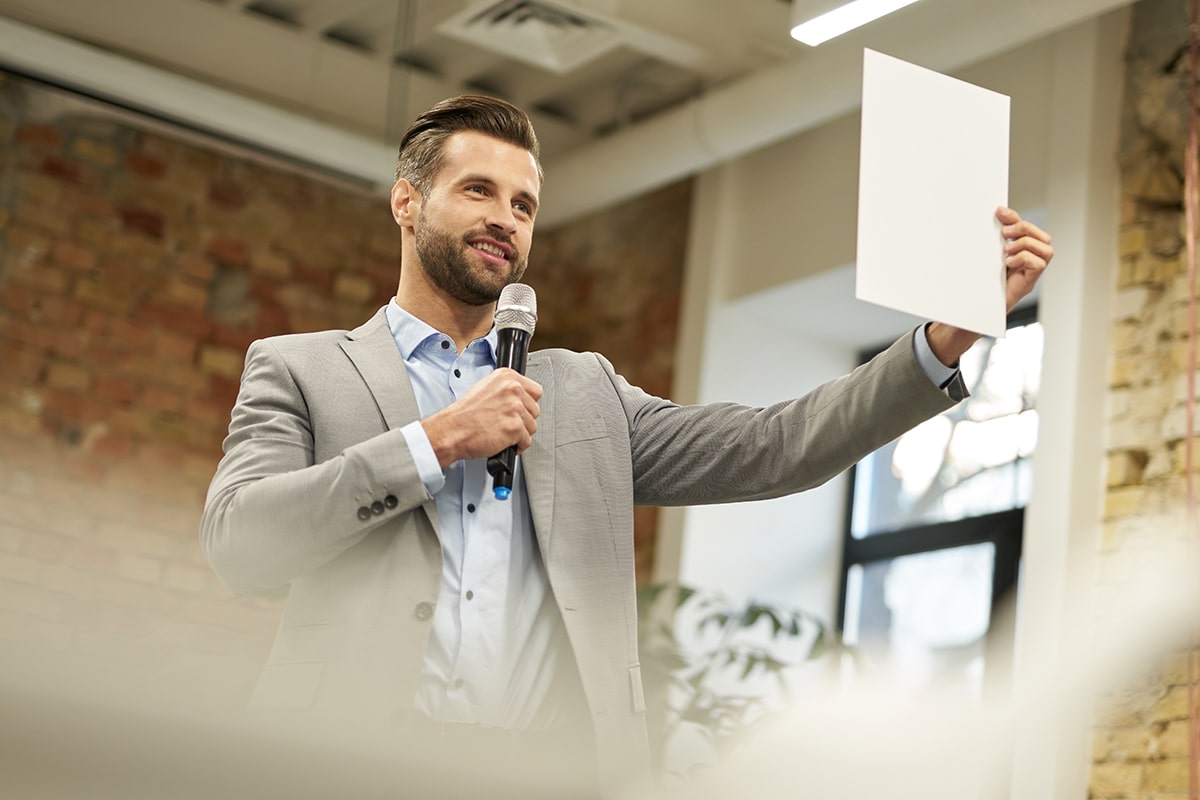 7 Ways Featured Professional Speakers Can Elevate Your Business Event
Are you planning an upcoming business event?
If so, you're probably well aware by now, it's very easy to get overwhelmed.
After all, there's a lot of preparation involved.
However, there's a shortcut to hosting a successful event WITHOUT spending too much time or energy.
The solution - hiring a professional speaker within your industry.
You see, to experience desirable results from your event, you need to transfer your core ideas to your team and audience members.
Professional speakers are experts at doing just that!
They specialize in grabbing and holding attention through engaging, interesting and relevant presentations. They're masters at getting your company's vision, mission and goals across to your audience in a clear and effective way.
In fact, one successful speech has the potential to boost morale, engagement and productivity within your company.
Here are 7 MAJOR benefits to hiring a professional speaker for your upcoming business event.
Boost Attendance and Attract New Customers
For your event to impact your audience, you first need to have an audience that is willing to listen to your message.
Sounds simple, but the last thing you want is a disgruntled and uninterested audience who feels forced into showing up.
Hiring a professional speaker is a great way to stir up anticipation and excitement around your upcoming event.
You see, most professional speakers are well known in their industry and have a loyal following.
Their name alone can create a buzz around your industry. Sparking publicity through social media, news, and even celebrities.
Indeed, you have a far greater chance of boosting attendance and attracting new customers when a professional speaker speaks at your event.
Establish Credibility
Hiring a professional speaker who's well-known in your industry will also help boost your company's credibility.
Why?
Because these speakers are viewed as experts in their industry. They reign authority over their audience.
They have spent years (often decades) establishing themselves as trusted leaders who people look up to for advice.
By leveraging their expertise, you'll remove skepticism, build trust and have a much easier time getting your message across.
Build Team Connection
Are you experiencing a disconnected team?
Professional speakers are experts at aligning (or re-aligning) your company's main mission, vision and goals with your employees.
Often, one successful speech is all it takes to reconnect your employees with your company's core values.
After, you'll find it MUCH easier to lead your team to success.
You see, when employees feel connected, they are more productive. Because your team is now working together in harmony towards achieving your company's goals.
Boost Engagement Amongst Your Employees
Did you know that over 66% of employees lack engagement at work?
It's true.
Disengaged employees can create serious issues within your company. Including: lack of morale and productivity, having to replace and find new employees, and failing to reach company goals.
One of the most effective ways of boosting employee engagement is by using a professional speaker to motivate them.
Professional speakers are experts at encouraging and inspiring your employees to perform better. Why? Because they can tap into your team's desires, re-ignite their passion and shift mindsets.
A motivating speech can help your employees unlock their full potential and reinforce the importance and value of working for your company.
Create a Bond Between Departments
Are you noticing a divide between your departments?
You are not alone.
This is a common issue corporations face.
With so many departments, it's hard for everyone to be on the same page, even when working to achieve the same goal.
Professional speakers can help you create a bond between departments, and team members within departments, by re-affirming your goals and expressing the importance of working together.
When departments work together as a community, companies thrive.
Show Your Employees You Care About Them
Let's face it, nobody likes working for a faceless corporation.
Hiring a professional speaker, preferably someone your employees look up to, is a great way to show your employees you care about them and their career development.
How?
Two reasons:
You spent your hard-earned money to have this speaker present in front of your team
You are looking for new ways to improve your employee's skills and well-being at work
Often, after hearing from a trained professional at a business event, employees view their company in a whole new light.
Naturally, this creates harder working employees because they realize their boss cares about them and their success.
Create New Perspectives
Sometimes, to boost performance, you need to create new perspectives on your company's goals and mission.
A professional speaker can help you achieve this.
You see, hearing from someone new with a fresh message, can do wonders for changing the way your employees view your company and the importance of their roles.
Conclusion
If you want to create stronger bonds with your team and achieve better company performance, hiring a public speaker at your next event may be the solution you're looking for.
However, be sure to do your research before hiring someone. Check their credibility, relevancy towards your industry, price point, etc.
A great way to find the right public speaker for your event is by going through the Keynote Speaker Agency.